---
-By Karoli
September 29, 2012- Buzzfeed has published the most bizarre set of emails between right wing operatives freaking out during the Scott Brown/Martha Coakley race in January of 2010 that I've ever seen.
The plot, hatched by a strange alliance of high-profile conservatives, was to have James O'Keefe and his "crew" catch the SEIU in some kind of voter fraud similar to what O'Keefe has tried to commit in various states around the nation in order to claim that voter ID laws are necessary.
Indict Breitbart is cooperating with law enforcement agencies that have opened criminal investigations into illegal activity by James O'Keefe's Project Veritas at the DC Board of Elections and that this person has been identified as the man who entered the BOE on April 3rd, falsely identified himself, and surreptitiously video recorded BOE staffers. We are offering a $500.00 reward for a positive ID on this man.
Welcome to a very special guest post by long-time Wonkette reader "Doktor Zoom." Enjoy!- Wonkette Jr.
June 14, 2012- So, you know that painting by David Bugnon of Dead Guy Andrew
Breitbart as a Teutonic Knight in Heaven, ready to take on commies, liberal scumbags, and innocent Department of Agriculture employees from beyond the grave? You know, the painting that one actual professional art critic called a "masterpiece of Outsider art, a veritable holocaust-tsunami of bad taste?" The painting that Patriot Depot is selling reproductions of for the bargain price of a mere $3999.95 for a limited-edition 36″ x 48″ giclee on canvas? The painting which The Patriot Update bravely calls, "The Painting Obama Fears?" Yeah, it's not so much a painting as a Photoshop mashup of a stock photo of Andrew Breitbart and a character from the copyrighted computer game Assassin's Creed: Brotherhood, with a pretty sunset-and-clouds background that probably also came from some stock photo website — no doubt somebody will find that soon, too.
-Posted today by political cartooninst and friend of the site Mike Flugennock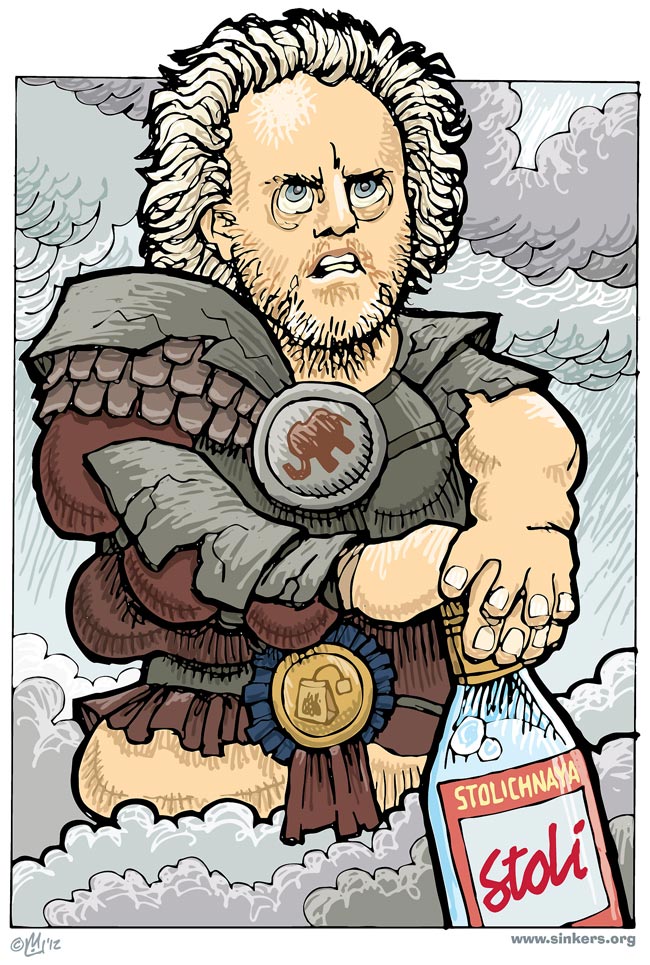 June 14, 2012- A couple of weeks ago, my comrade Isis hipped me to this pants-pissing hilarious article in Wonkette about this absurdly overwrought portrait by David Bugnon, glorifying recently-deceased rightist "journalist" Andrew Breitbart as a Nordic knight. Posters and postcards of this hysterical tribute were available for purchase at Patriot Depot, your one-stop shop for all your right-wing drama-queen kitsch needs, for the bargain price of $3999.95. (Such a deal! I'll take two!)
Now, those of you who know me and my work know that there was no way in hell I could ever resist parodying this great heaping sloppy slab of fanboy bilge.
When we first became aware of the... shall we say, idealized picture of Andrew Breitbart above, we couldn't help but be reminded of another portrait in the same romantic vein- another "man of the people", with a similar understanding of the use of propaganda to influence ideas and events. Interesting that two artists so many decades apart should view them in such similar light...
And yet, as Wonkette might remind us, in 1934 you actually had to do your own painting...
—By Adam Weinstein
June 9, 2012- Wandering the halls of Netroots Nation 2012 in Providence, Rhode Island, this week, I began to wonder why more conservative moles hadn't tried to crash this shindig. The annual progressive political convention for bloggers and organizers doesn't turn away paying guests, so it seems ripe for infiltration. Saturday afternoon, on the last day, it finally happened: James O'Keefe III, "ratfucker" extraordinaire, showed up to tape the festivities. And we taped him—see the video below.
-by Rebecca Schoenkopf
June 3, 2012- Patriot Depot, supplies for the conservative revolution, has what you crave, and that is seven different versions of this amazing portrait of Ghost Andrew Breitbart titled Fight. You could buy it in a pack of post cards; you could buy a giclee print; you could buy a $49.95 version, or a $3,999.95 version, because $4000 would just be a silly price to pay for this, but $3,999.95 is a steal!
-By Scott Keyes
May 18, 2012- As ThinkProgress documented this week, both of the "non-citizens" shown in James O'Keefe's latest video sting supposedly committing voter fraud by participating in American elections are actually American citizens.
Following our stories, ThinkProgress readers confronted O'Keefe with these facts on his Facebook page. The conservative filmmaker refused to acknowledge that the two "non-citizens" he smeared in his video, Zbigniew Gorzkowski and William Romero, are actually American citizens, demanding "official documentation that proves otherwise" before he'd correct his story.
-By Ryan J. Reilly
May 16, 2012- "If he were my son I would spank him."
That's how the widow of a North Carolina man whose name was presented at a polling station by an activist working with James O'Keefe's Project Veritas responded to a video the group released this week showing an individual using her deceased husband's name.
As Media Matters points out, Michael Bolton, Jr. — a very much alive son of the widow who spoke to TPM — is registered to vote at the same address as his recently deceased father. The poll watcher in the extended version of the O'Keefe video asks if he was the junior Bolton to which the Project Veritas operative responds: "That would be correct."
-By John Frank
May 15, 2012- A conservative filmmaker known for exposing ACORN debuted a new video Tuesday that claims to uncover voter fraud in North Carolina.
James O'Keefe's Project Veritas put a 10-minute video on YouTube -- which uses hidden cameras and people posing as others -- that purports to identify two non-citizens and a dead man still on the voter rolls. It also digs into the vote on the constitutional marriage amendment by airing unflattering interviews with UNC-Chapel Hill officials and anti-amendment campaign supporters.
\Gary Bartlett, the state's elections chief, said his agency will investigate the claims in the video, saying it showed "a lot of things disturbing."