Blogs
---
Hillary Clinton's campaign offices around the country have been put on alert after at least two women approached Iowa staff under the guise of being supporters in an apparent effort to catch the campaign engaging in improper or illegal activity, a Clinton campaign official said.
IndictBreitbart.org is a new campaign to seek accountability for the violations of criminal law committed by Andrew Breitbart, James O'Keefe and Hannah Giles. O'Keefe and Giles illegally and surreptitiously recorded employees of the Baltimore ACORN office in the summer of 2009 and then their employer Breitbart illegally published their edited versions online in order to harm ACORN. This is a grassroots campaign to let law enforcement officials in Maryland know that ordinary citizens want accountability.
Since that illegal conduct occurred, numerous official reports have come out showing that O'Keefe, Giles and Breitbart acted illegally/unethically with regard to their ACORN recordings. Those reports are listed here. Also, James O'Keefe has been arrested and convicted for tampering with the phones in Senator Mary Landrieu's office, and he is under investigation for attempting to lure a CNN reporter on to a boat in Maryland for nefarious purposes. Andrew Breitbart was responsible for posting an edited recording of Department of Agriculture employee Shirley Sherrod which resulted in her improper firing. A subsequent investigation determined that she did nothing wrong and should be reinstated.
You can help hold these people accountable for violating Maryland law by signing this letter to Gregg Bernstein, the new Baltimore State's Attorney.
Indict Breitbart is cooperating with law enforcement agencies that have opened criminal investigations into illegal activity by James O'Keefe's Project Veritas at the DC Board of Elections and that this person has been identified as the man who entered the BOE on April 3rd, falsely identified himself, and surreptitiously video recorded BOE staffers. We are offering a $500.00 reward for a positive ID on this man.
-Posted today by political cartooninst and friend of the site Mike Flugennock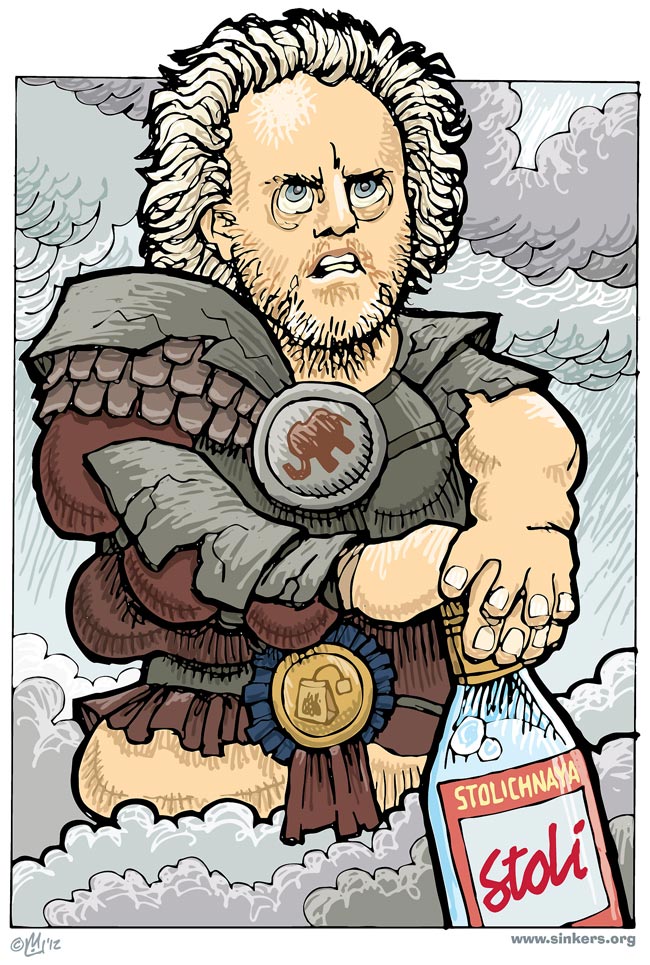 June 14, 2012- A couple of weeks ago, my comrade Isis hipped me to this pants-pissing hilarious article in Wonkette about this absurdly overwrought portrait by David Bugnon, glorifying recently-deceased rightist "journalist" Andrew Breitbart as a Nordic knight. Posters and postcards of this hysterical tribute were available for purchase at Patriot Depot, your one-stop shop for all your right-wing drama-queen kitsch needs, for the bargain price of $3999.95. (Such a deal! I'll take two!)
Now, those of you who know me and my work know that there was no way in hell I could ever resist parodying this great heaping sloppy slab of fanboy bilge.
When we first became aware of the... shall we say, idealized picture of Andrew Breitbart above, we couldn't help but be reminded of another portrait in the same romantic vein- another "man of the people", with a similar understanding of the use of propaganda to influence ideas and events. Interesting that two artists so many decades apart should view them in such similar light...
And yet, as Wonkette might remind us, in 1934 you actually had to do your own painting...
Tuesday, April 10, 2012
D.C. BOARD OF ELECTIONS
April 10, 2012
Contact: Alysoun McLaughlin, amclaughlin@dcboee.org
202-727-2511 (direct) / 202-441-1121 (cell)
Board Condemns Video Showing Fraudulent Activity on Election Day
Investigation underway; evidence of potentially criminal activity will be referred to federal and District law enforcement authorities
WASHINGTON, D.C. — The District of Columbia Board of Elections today condemned a video circulating on the Internet that shows a person misrepresenting his identity at District polling places on Election Day. The Board confirmed that it is investigating multiple incidents that occurred on Tuesday, April 3.
Shirley Sherrod, who was a primary target of Andrew Breitbart's criticism, released the following statement on the conservative media icon's death:
"The news of Mr. Breitbart's death came as a surprise to me when I was informed of it this morning. My prayers go out to Mr. Breitbart's family as they cope through this very difficult time."
Re-posted from Talking Poionts Memo
March 1, 2012- Andrew Bretibart died today during a pitched Twitter war defending James O'Keefe. We have long advocated for accountability in the courts for Mr. Breitbart and Mr. O'Keefe because of their lawlessness, intolerance and smear campaigns. Sometimes, however, accountability comes in other ways from a greater power than the courts.
Mr. Breitbart carried hate in his heart. He raged at liberals, Occupiers, Muslims, Democrats, and women. He used his mouthpiece to cause divisions and to foment violence. He caused immeasurable hurt and suffering to a great many people. Last month, he spewed invectives and blind rage at the CPAC Conference, causing many people, mostly on the left, to call for him to seek professional help for himself. Instead, he continued raging against his imagined enemies until his heart could no longer take it.